In the very beginning, we were convinced that a round-the-world ticket is the way to go. It just seems so much easier: you establish a rough itinerary beforehand, buy the ticket, and adjust the departure dates as you go (with a minimal fee)… it's simple.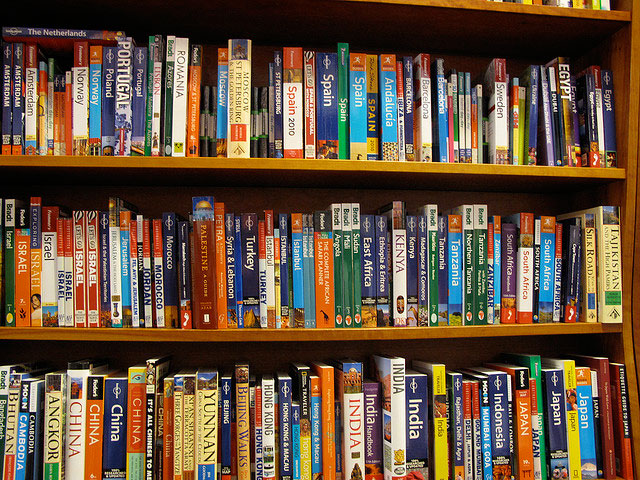 We like RTW ticket because
– The question, "So, where are you going?" becomes 100x times easier to answer because there is some sort of a blueprint. Your itinerary's locked in and would be very hard to change. In a weird, liberating way: It's nice to have one less thing to worry about.

– We assume (rightly or wrongly, we don't know) that a RTW trip would be enough as a 'proof-of-onward-journey' often requested during visa applications.
– We have a better idea how much our transportation cost will be which makes budgeting the rest of the trip a hell lot easier. Since transportation usually makes for the biggest chunk of the total trip cost, getting it out of the way earlier would give a better sense of how much money we have left for the rest of the trip.
– The specials are super cheap. Take a look at this example I got from current Airtreks RTW specials:
New York – Bangkok – Munich – London – New York
For a total of $1200!
– Pricewise is comparable to point-to-point rundown we made — within a couple of hundred bucks (see point below)
– The promise of having one contact person to help you out with your itinerary while you're on the road is pretty nice too.
The reason we're ditching the RTW ticket idea
– We don't know where we're going. It seems that the more research we do the more headache we have. We've gotten to the point where we're ready to throw in the towel and just play it by the ears. If we never get any further than the first country we're going to, so be it.
– Potentially cheaper. We've laid out the estimate we got from the AirTrek agent side by side with separate ptp quotes — in most cases the ptp are 200-300 bucks cheaper. It's not a scientific comparison by any measure, especially considering that depending on day of the week that I do the ptp search, they could end up being roughly the same price… but enough for us to continue analyzing both options.
– More flexibility. Not having a locked itinerary means that if you happen to see a mega deal on an airfare to a country originally not on your list, there's nothing stopping us to go for it because we do not have to worry about getting back on the RTW track.
– Even more flexibility. We know that we want to try to hit Africa, Asia, South America, and Eastern Europe. None of the specials we've seen offer that kind of route. We've tried modifying the existing RTW specials but they ended up to be much, much more expensive than we think it should be.
– No weird rules or restrictions. I know some people have gotten really good deals with airline alliances tickets, such as One World… but there are weird restrictions and we kept breaking their online trip planner app from apparently breaking one of their many rules.
– Commitment free. RTW tickets are usually non-refundable (unless you buy some sort of insurance) and have a one-year limit. We might luck out and are able to make some money and extend our travels indefinitely. Or we might get burned out 3 months into it. As someone who's terrified to enter a 2 year contract cellphone plan, I guess the idea of purchasing an expensive non-refundable anything with a time limit is a little too committing.
—
Even though we're still somewhat on the fence right now, we're leaning towards getting a point-to-point ticket or a combination of the two. E.g. we might get a cheap RTW ticket for the Asia part of our trip (and just don't take the last leg home) and continue point-to-point.
What we've discovered is that RTW trips makes a lot of sense in terms of ease and cost if you can find one of their special deals suited to your itinerary with only a little modifications. But if you're like us: unsure of where to go and actually want to be able to do crazy things such as crossing the same ocean twice (OMG!)… and tend to organize things in a haphazard way (– that doesn't even make sense, does it?), a point-to-point ticket sounds like the better option.
We gave ourselves a ticket purchase deadline and we have 3 weeks to decide. This is scary.
Have I mentioned that I have a thing about commitment?
---
If you've done any research into this, what has your experienced been? What did you decide to do and why?
---