Here in the Bay Area, the only consolation about rainy winter days is knowing that rain here = snow in the Sierras. As you're reading this, Jack and I would be on our way to meet up with a couple of good friends of ours who have invited us to spend the weekend in their Tahoe cabin.
We don't find winter sports a cheap activity and that's why we don't go very often. The most expensive costs are of course the lift tickets, then the getting up there, and if you don't have your own equipment (like us), there's the rental fee.
Throughout the years, we've utilized some or all of the ways listed below in order to indulge in our winter hobby without breaking the bank (too much).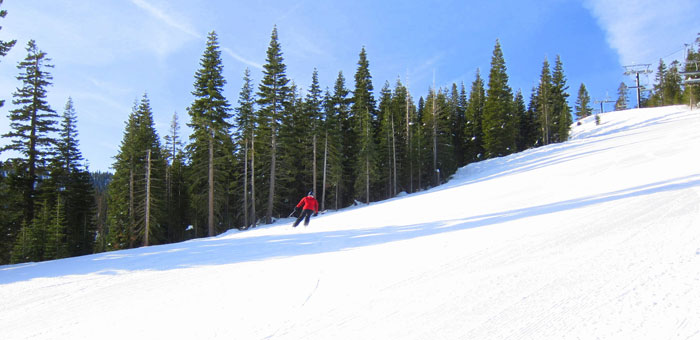 How to Ski Tahoe On A Budget
Use Shell Buy One Get One Free Promotion — This is probably one of the best deals on ski lift tickets out there. Get a 10 gallon of gas from participating Shell stations, and get a voucher that you can exchange for a free lift ticket at participating resorts.
Take the ski bus — If it's only going to be you, or the two of you, you might want to check out some of these ski buses that do day trips with pick up locations in the Bay Area. They leave super early (around 4 am or so) and will get you back to the Bay Area around 8 or 9 pm.

They do the driving, you do the skiing. Some even include breakfast and dinner.

Some ski bus companies in the Bay Area:
– Bay Area Ski Bus
– Tahoe Snow and Sun
– North American Charter Ski

And most often than not, they will save you quite a lot on lift passes. For example, Tahoe Snow and Sun offers a round-trip to Northstar Resort + lift pass for $95. If you get the lift pass from the resort directly, it will cost you $80 alone. So for another $15, you don't have to worry about gas and driving. I think it's worth it.

Don't buy lift tickets from the resorts — Really. It's like paying full price to go to an amusement park . Nobody does that. There are always deals where you can find discounted tickets. Check your local Costco first. Then your local outdoor stores (such as Sports Basement, REI, etc). Liftopia and Snowpals often have really good deals on lift tickets as well. If all else fail, try Craigslist, Kijiji, and Ebay.
Ski on Sundays — Or on weekdays. And non-holiday weekends. Just like airline tickets, the cheapest lift passes are only available on days when nobody wants to ski. Namely weekdays and Sundays. So if your time is flexible, try to plan to be on the slopes on those days. The obvious side benefit? Less people on the slope = happy skier/snowboarder.
Don't rent from the resorts — It's very convenient, of course. But a little research will show how much savings you end having by getting your rentals sorted out beforehand. Northstar Resort would charge you $86 for a 2-day rental while getting them for our local Sports Basement would only cost $30! A savings of 65%

Now, isn't that worth all that effort lugging your equipment from the parking lot to the lift? We think so.

If you're still learning (or just trying to save money) — check out the smaller resorts — Because realistically, you won't have the stamina nor the skills to take advantage of all the routes that bigger resorts have. So why not check out the smaller resorts? They're usually beginner friendly and their lift passes are about half the price of the much bigger resorts. Our favorite small resorts in Tahoe area? Diamond Peak and Mt.Rose.
You might also want to choose to stay in a smaller, less expensive Tahoe timeshare resort. – Timeshare resorts such as Marriott Grand Residence Club and The Ridge Tahoe offer great amenities, large accommodations and complimentary shuttle rides to and from the mountains. They are usually located only a few minutes away from the mountains.
Both Jack and I are really excited that the winter season is here. But since we're tightening our belts in order to hit our savings goal before we leave on our RTW trip, we're trying to save money wherever we can.
Hopefully these tips will help out fellow budget-strapped snow enthusiasts. If you have your own tips on how we can enjoy our winter hobby for even cheaper, less us know in the comment section below.