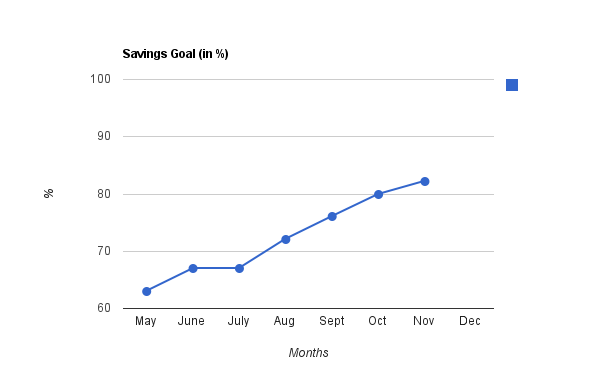 We're going to try to write a short update our savings goal at the end of each month.
It's kind of hard to tell from the graph, but we only managed to save only half as much as we did last month.
Which sucks 🙁
Our tickets to Indonesia really took a big chunk of our extra income.
We're flying at the height of the Christmas season. We pretty much broke the cardinal rule of buying airplane tickets: never fly when everyone and their neighbors want to fly. But due to work related circumstances, and my brother's school schedules, that's the only time that worked.
Some plans to counter this:
– Reduce our spending while in Indonesia. Since we'll be staying at my parents, that usually takes care of our accommodation and food cost. So it's almost that we'll have no expenses for the two weeks we're staying there.
– We're going to have our foster kitty stay with Jack's mom as opposed to hiring a pet sitter.
But in all honesty, that's all just spare change. I'd like to think that everything adds up (and it does), but I can't help but feeling a little gloomy about it. But then, I'll think about seeing my family again, and eating authentic Indonesian food again — then, I feel just a little brighter. It's hard to stay gloomy for long when I'm about to go on a trip. It's too exciting!
What's YOUR travel plan this holiday season? Share them in the comment section below.