A guest post highlighting the pros and cons of trying to go off the beaten path while traveling.
I read a recent news article from India which highlighted that a number of hotels around the main Indian tourist destinations were adopting a foreigner-only admission policy. Indians were only allowed past security if they could produce a non-Indian passport (or presumably a sufficient amount of cash). The perception among management is presumably that western folk do not want to share their holiday spaces with Indians, the tired tourist preferring to keep out the local once they have returned to their oasis of calm after a busy day of sightseeing. This is a sad yet I suspect common scenario.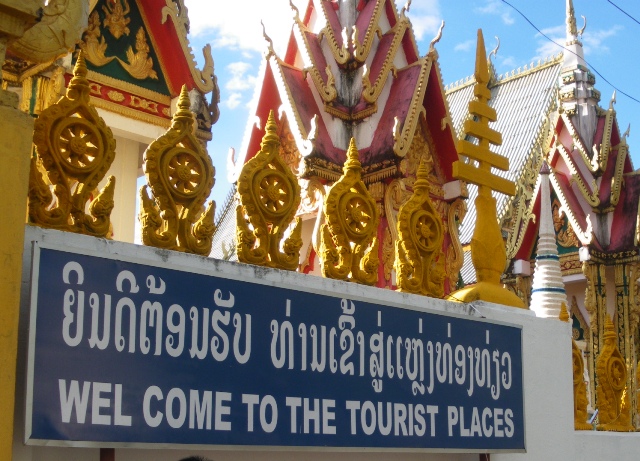 Before we get too critical of the 'rich tourist' stereotype, let's consider the other end of the traveller/tourist demographic and look at the backpackers who hang out on the Khao San Road or who go partying in Vang Vieng or Koh Phangan. Do they not live in an equally insular bubble, however different it looks on the surface? Are their actions and travel choices not creating the same consequences as their wealthier fellow foreigners?
Look at the streets around the backpacker haunts and they are lined not with craftsmen and local services but with an endless stream of bars aimed squarely at the masses of foreign visitors. It must be impossible to open a cobbler's or a barber's shop and pay the rents demanded on such prime land that is dominated by tourist businesses. Just as with the 5 star hotels, tourist ghettos are created and local people steer clear, knowing that this is not their place any more.
Is this situation unavoidable? In countries where there is a large disparity in wealth between the local people and the visiting tourists is there any room for mutual co-existence or must tourists remain in an insulated bubble?
Perhaps there is an opportunity to break out of these confines, but the will to do so must surely lie with the individual traveller. Large groups will, by their very nature, require a tourism infrastructure (hotels, party nights, nice restaurants, bars, 'cultural shows'); and where enough trailblazers beat a path these elements are soon created or imported to service those who follow. Individual travellers on the other hand can visit a country/city/district and if no tourist trail exists, they can use whatever resources exist (local eateries and lodgings), leaving without much of a trace.
Is this a damning indictment of mass tourism? It doesn't have to be. Visitors can choose whether they want to step beyond the world that has been created especially for them and to what extent they want to do so. High prices and poor service and food quality often mean that only those who don't know better eat in the places geared towards foreigners. The allure of 'safe' food and drink is for many tourists the over-riding factor in deciding where to eat.
Getting beyond the tourist bubble in most developed countries does involve making sacrifices in terms of giving up on luxury accommodation or western-style food. Whether or not that is a price worth paying is ultimately down to each person to decide.
–
Guest post written by Andy Jarosz for Travel Insurance Cover, an Australian company providing travel insurance for those that prefer to travel within the confines of the tourist bubble, and those breaking out of the tourist bubble. Visit the website for information on policies available.